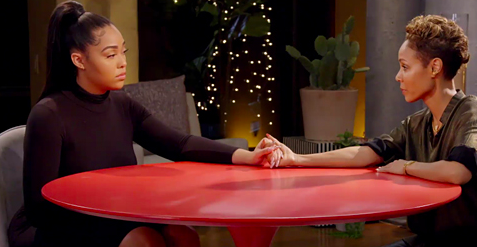 This morning, people were glued to their Facebook feeds to hear Jordyn Woods (Kylie's ex-BFF) break her silence on what happened that February night when she allegedly hooked up with Tristan Thompson, Khloe Kardashian's baby-daddy.
Yes, Kylie's sister.
Woods went on Jada Pinkett-Smith's
Red Table Talk
to finally speak her truth.
Jordyn says she went out to the club, then went with her friends to a house party. That house party ended up being at Tristan's house.
Right off the bat... Jordyn says she's NEVER slept with Tristan.
Jordyn now says, she shouldn't have gone over there as it wasn't appropriate.
She debunks the rumors that Thompson took everyone's cell phones at the party.
She denies that any
lapdance
took place, but did say while Tristan was sitting on a chair, she was sitting on that chair's arm with her legs on his.
Okay, that's a little suspect.
She says she and a friend stayed there until 7AM and said she needed to get home
she is 21 BTW.
When she left to get into the car she called, Tristan kissed her.
He kissed her on the mouth.... no tongue... no passion. Woods says she talked to Khloe and Kylie later but never told them, admitting she omitted the information, which she now regrets.
In the interview Jordyn says she has tons of regrets:
She should've told Khloe the FULL truth
She shouldn't have gone to the party at Tristan's
I believed Jordyn. She's known the Smiths for years, and they don't seem like the family who would let sh!t slide.
Well, moments after the interview aired... Khloe took to twitter to air her grievances
Why are you lying

@jordynwoods

?? If you're going to try and save yourself by going public, INSTEAD OF CALLING ME PRIVATELY TO APOLOGIZE FIRST, at least be HONEST about your story. BTW, You ARE the reason my family broke up!

— Khloé (@khloekardashian) March 1, 2019
Of course, the internet dragged Khloe for continuously dragging Jordyn, but not holding Tristan accountable.
Remember, Tristan's cheating caused Khloe to go into early labor in April... but we're just going to forget about that.
So this prompted Khloe to address THAT issue
Tristan is equally to blame but Tristan is the father of my child. Regardless of what he does to me I won't do that to my daughter. He has been addressing this situation PRIVATELY. If Tristan were to lie publicly about what conspired,then yes I would address him publicly as well

— Khloé (@khloekardashian) March 1, 2019
The family's makeup artist, Hrush took to twitter to slam Jordyn's interview:
All she had to do is genuinely apologize and take accountability for her actions!!! The fact she chose to go on FB LIVE AND LIEEE ABOUT THE SITUATION SHOWS, she is not sorry at all!

— Hrush |StyledByHrush (@HrushAchemyan) March 1, 2019
THEN.... later in the morning.... makeup artist/ cosmetics creator Jeffree Star took to his IG story to slam Jordy.... claiming everyone around Calabasas has seen Jordyn and Tristan canoodling and they've been an item for MONTHS:
So what do YOU think of all the drama? Do you believe Jordyn?