Oops!
While trying to motivate fans to get their civic duty on, Justin Timberlake unintentionally broke the law.
"Hey! You! Yeah, YOU! I just flew from LA to Memphis to #rockthevote !!! No excuses, my good people!

There could be early voting in your town too. If not, November 8th! Choose to have a voice! If you don't, then we can't HEAR YOU! Get out and VOTE! #excerciseyourrighttovote," read Timberlake's now-deleted post on Instagram.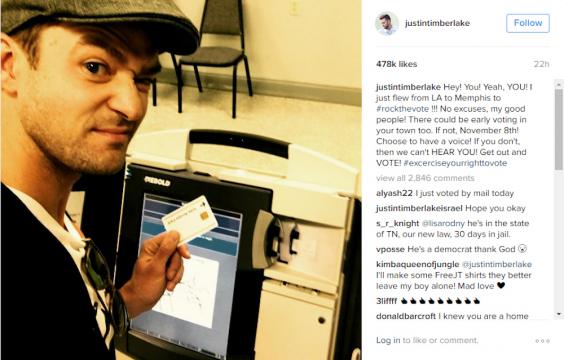 Why is this against the law you asked?
TMZ reports

Tennessee law prohibits voters from taking photos and/or videos while at the polls.
"The Shelby County District Attorney's Office was made aware of a possible violation of election law," the spokesperson said on Tuesday afternoon. "The DA's office is currently reviewing these allegations."
Since then, the DA's office has told TMZ:
The official told us ... the matter was "under review," but he now says he made a mistake. He says although

the D.A. was aware of the selfie

, no law enforcement agent, election commission official or police officer had filed a formal complaint, so the matter wasn't on the table for review.
Poor JT, he was just trying to encourage his fans to vote!
Before you commit the same crime, double check your state's rules before you snap your selfie.