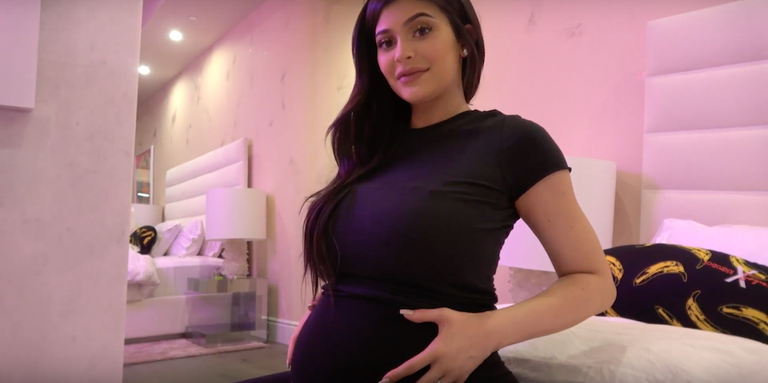 We knew it.
They knew we knew.
But no one would spill the beans.
...until Super Bowl Sunday!!!
In a post via social media, because where else?
Kylie came from out of hiding and posted a message to her fans along with a video on YouTube revealing that she was indeed pregnant AND already had the baby earlier in the week.
February 4, 2018
She wrote:
I'm sorry for keeping you in the dark through all the assumptions. I understand you're used to me bringing you along on all my journeys. My pregnancy was one I chose not to do in front of the world. I knew for myself I needed to prepare for this role of a lifetime in the most positive, stress free, and healthy way I knew how. There was no gotcha moment, no big paid reveal I had planned. I knew my baby would feel every stress and every emotion so I chose to do it this way for my little life and our happiness.
The 11 1/2 minute video titled "
To Our Daughter"
chronicles Kylie's relationship with rapper Travis $cott, first narrated by her BFF Jordyn Woods. The video contains interviews with her friends and family. Jenner started dating the
Goosebumps
singer around April 2017....kind of around Coachella.
Beware, this video gives you all the feels!
Even little Chicago West made a debut! Baby Chi and Kylie's babe are 2 weeks apart, and with Khloe being due in April, there's no doubt these little baby will be tight with her two cousins.
We still do not know the baby's name, but we do know her birthday and that she weighed 8lb 9oz.
2.1.18
4 ever
New rager in town. !!!

— TRAVIS SCOTT (@trvisXX) February 4, 2018
Scott also took to the internet to post about his baby girl.
Back in September 2017, right before Labor Day weekend, the internet was abuzz that the youngest KarJenner was expecting. Then, a few weeks later it was rumored that big sis Khloe was as well.
In December, Khloe announced to the world that the rumors were true...on her end. However, there was still nothing from Kylie.
There was the Christmas card....still nothing.
The
Keeping up with the Kardashians
season premiere....still nothing
Some wondered if Kylie will just come out of hiding after the baby was born, and they were right.
Last but not least, Caitlyn Jenner took to Instagram to post a heartfelt message about her newest granddaughter.
Congrats, Kylie and Travis.
Wishing you all the best! xoxo