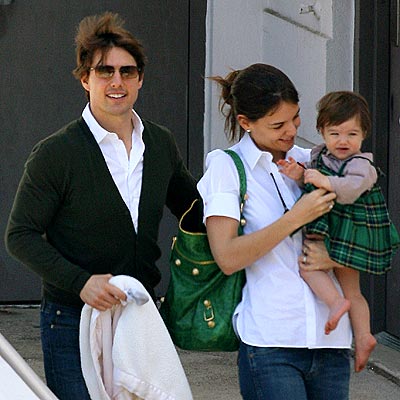 People.com
Say it ain't so!
Seriously, I saw this coming when Tom jumped on Oprah's couch 6 years ago. I can't stand Tom Cruise and I'm sure Katie got over him too. I mean, c'mon....it isn't 1991 anymore.
According to
TMZ
:
Katie Holmes is the one who filed for divorce and Tom Cruise was "blindsided" by Katie's legal move ... TMZ has learned.

We know Katie filed the divorce docs in New York on June 28, citing "irreconcilable differences." She is asking for sole legal custody and "primary residential custody" of the couple's 6-year-old daughter, Suri.

We also know Katie is asking for a "suitable amount" of child support .. this according to the divorce docs.

Katie also asks for a division of property in her divorce docs, although we know there was a significant prenup that is based on California law. Katie makes no mention of the prenup in her filing.

We're told Tom is "very sad" and "did not see this coming." He was spotted wearing his wedding ring just this week while filming in Iceland. Interestingly, Katie also wore her ring this week.

We're also told there is some "nastiness" here, evidenced by Katie's move to get sole legal custody.

Tom's rep has released a statement saying, "Kate has filed for divorce and Tom is deeply saddened and is concentrating on his three children. Please allow them their privacy to work this out."

Katie's divorce petition was filed anonymously, without names
I know we're all concerned over how Suri's doing.
Check out her "statement" via her paraody account
Suri's Burn Book
on Tumblr.
Please respect my privacy during this difficult time. (Just mine though — everyone else is fair game.)
I will be vacationing in the Cayman Islands for the Independence Day holiday with my financier, and going over my plans to seek sole custody of myself.
I appreciate the concern and the warm wishes.